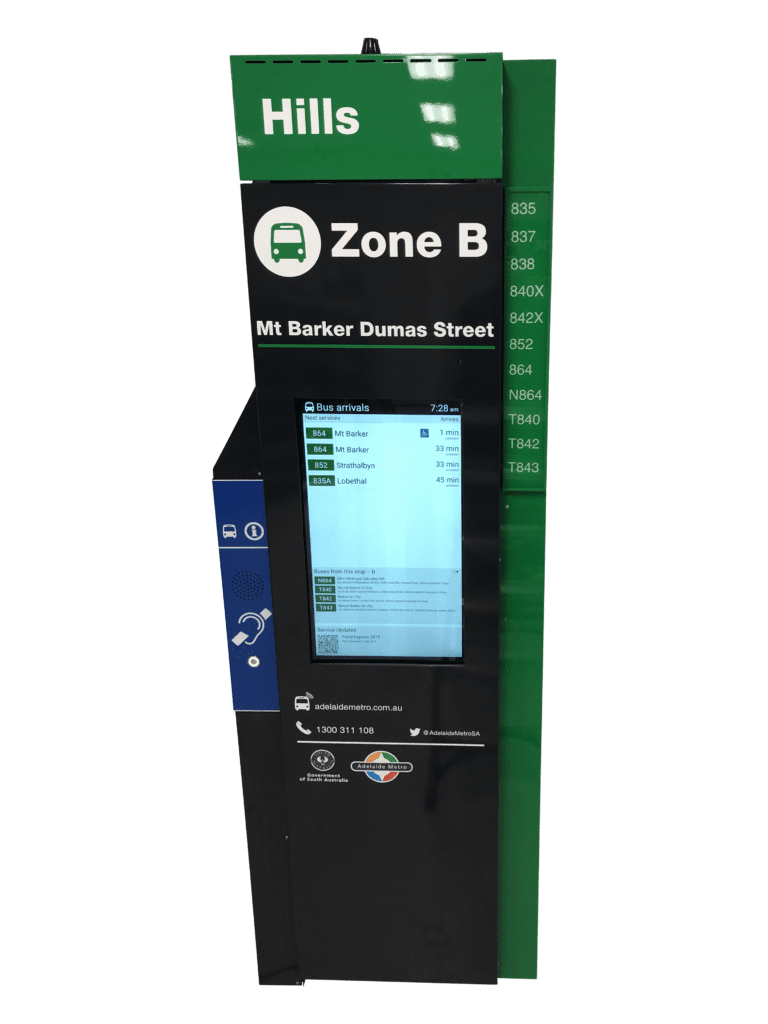 DIGITAL BUS STOP TOTEM WITH INBUILT VOICE ANNUNCIATOR AND HEARING LOOP SYSTEM
Our Digital Bus Stop Totems with inbuilt Voice Annunciator and Hearing Loop System are sunlight readable, weather resistant, sleek & modern.  They display and annunciate the Passenger Timetable Information and Service Messages.
Learn more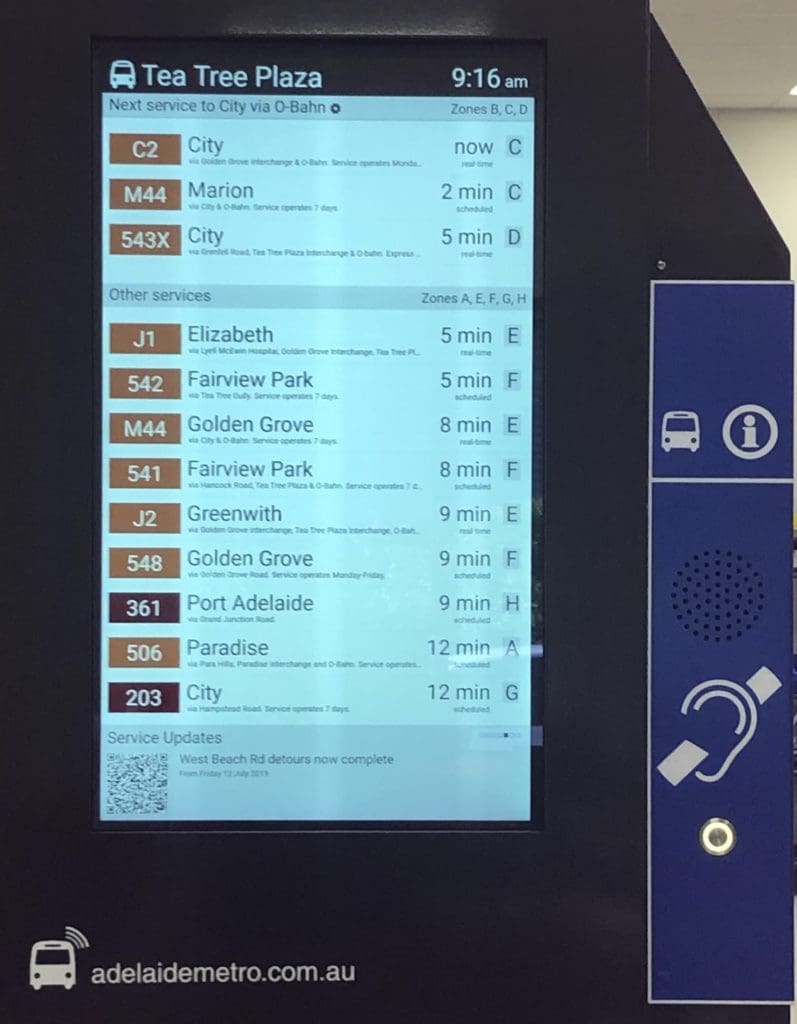 BENEFITS OF A DIGITAL BUS STOP TOTEM WITH INBUILT VOICE ANNUNCIATOR AND HEARING LOOP SYSTEM
Our outdoor digital totems display bright, clear, easy to understand passenger information.  In addition, these totems also make it easy to update passengers about travel delays and cancellations.  Thus, allowing you to keep your passengers in the loop and happy as a result.
Additionally, our totems also feature a sleek and lightweight design.
LCD OUTDOOR SCREENS
Our vandal resistant displays have brightness of up to 4,000 Nits.  This means they are viewable even in direct sunlight.  Yet, thanks to an auto dimming feature they are also readable in dim-light and at night.
To top things off, our screens also have a wide viewing angle and use backlighting.  They are also designed to operate 24/7 for years on end.
LARGE RANGE OF SIZES
Our outdoor digital totems come in a range of sizes.  This includes anything between 32" – 86".  They can also display in landscape or portrait modes.
OUTDOOR DIGITAL TOTEMS BUILT TO LAST
Our displays are IP65 rated.  This means they are strong, sturdy, weather resistant and dust proof.  Additionally, vandal resistant features make them scratch proof, shatter proof and high impact proof.  These totems are a vandals worst nightmare as  result.
PRODUCT DETAILS
Our Digital Bus Stop Totems with inbuilt Voice Annunciator and Hearing Loop System is an outdoor digital alternative for installation at street level hear loop at Bus, Tram and Light Rail Stops.  It provides commuters Real Time Passenger Information including those requiring hearing assistance.

OUTDOOR DIGITAL TOTEM FEATURES
In addition, this totem can have static messages sent to it every 20-30 seconds.  This is done via wireless LAN/USB/Bluetooth display networks.  This display is also capable of receiving and displaying complex, up-to-date information from a remote source.
CUSTOMISABLE
Enclosures are available in different colours.  They also feature a range of options such as audio and touch screen.  Other feature also include USB, 3G/4G, ethernet and Wi-Fi to suit all users.  Our screens can also display in a black and white or colour options.
VOICE ANNUNCIATOR AND DIGITAL HEARING LOOP SYSTEM
The Voice Annunciator and Digital Hearing Loop System is activated when the illuminated button is pushed.  It signals the Network Amplifier Controller to read the timetable information displayed on the screen.  Those who require hearing assistance and wear hearing aids can tune into the voice annunciator broadcast by activating the "T Switch" on their hearing device. Delivery of the broadcast is a considerable height range from 1-2 Metres with a strong signal and little interference.
WORLD'S FIRST
Therefore, due to the inbuilt coil, operators will be pleased to learn that they will no longer have to dig into the floor or concrete to create a perimeter for the Hearing Loop System to operate.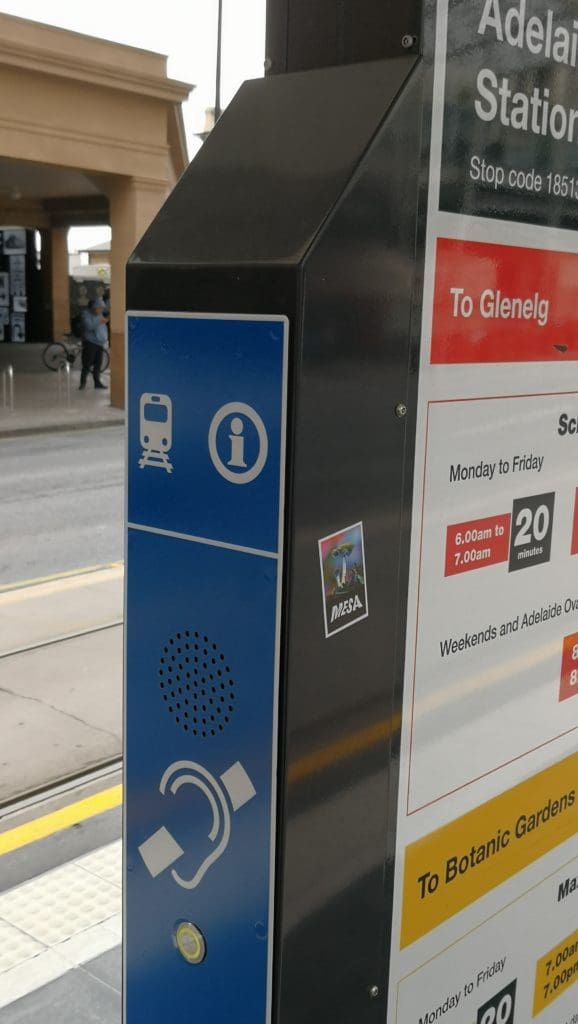 TECHNICAL SPECIFICATIONS
Our Digital Bus Stop Totem' with inbuilt Voice Annunciator  LCD Panel is available in a range of sizes from 32" – 86″.  Technical specifications for the 32" are listed below.  Please contact us directly for information on other sizes or configurations to meet your requirements.
Series Model
Enclosed Monitor
Interface
Environmental
Options
Accessories
| SERIES MODEL | 32" LCD Digital Bus Stop Totem with Inbuilt Voice Annunciator & Hearing Loop System |
| --- | --- |
| LCD Panel Size | 32" (31.55" Diagonal) |
| Resolution | 1920 x 1080, RGB Stripe Arrangement |
| Brightness | 2000 Nits |
| Contrast Ratio | 1300:1 (typ). |
| Viewing Angle | Viewing angle free R/L 178⁰(Min.) U/D 178⁰ (Min.) |
| Active Area | 698.4 (H) x 302.9 (W) mm |
| Power Consumption | 140W |
| ENCLOSED MONITOR | |
| --- | --- |
| Aluminium | Standard |
| Dimensions | 843mm (W) x 2575mm (H - above ground) or 2727mm (H-Full length) x 176.7mm (D) includes Fins and Top Hat |
| Weight | 136 kg |
| 6.4mm Thickness, HIgh UV Limiting IR Glass | Standard |
| Finishing | Powdercoat |
| INTERFACE | |
| --- | --- |
| Standard Inputs | Wi-Fi |
| Built in Computer | Built in Wireless PC |
| Control & Monitoring | MPMS & Network Reset |
| Voltage | 230/110 +/-15% VAC |
| Frequency | 50/60 +/- Hz |
| ENVIRONMENTAL | |
| --- | --- |
| Operating Temperature | 15⁰C to +50⁰C |
| Optional Extended Operative Temperature which includes Intelligent Internal Environmental Control System | -35⁰C to +50⁰C |
| Storage Temperature | -20⁰C to +60⁰C |
| Humidity | 10% to 90% |
| OPTIONS | |
| --- | --- |
| Inputs | USB, 3G/4G, Audio |
| Video Input Options | HDMI / VGA / Composite / RGB |
| Bird Deterrents | Bird Rollers, Bird Spikes, |
| Touch Screens | Near Field Capacitive |
| Security & Protection Options | Password protected remote control, Condensation protection circuitry, over/under temperature protection, Intelligent Internal Environment Control |
| Software Options | MetroSpec Display Monitoring System (MDMS), MetroSpec Network Monitoring Software (MNMS), 4PIDS Real Time Scheduling Software, PADS4 |
| ACCESSORIES | |
| --- | --- |
| Remote Control / AAA Batteries (2) | Standard |
| Quick Start Guide | Standard |
ENQUIRE ABOUT THE METROSPEC DIGITAL BUS STOP TOTEM WITH VA SYSTEM TODAY!