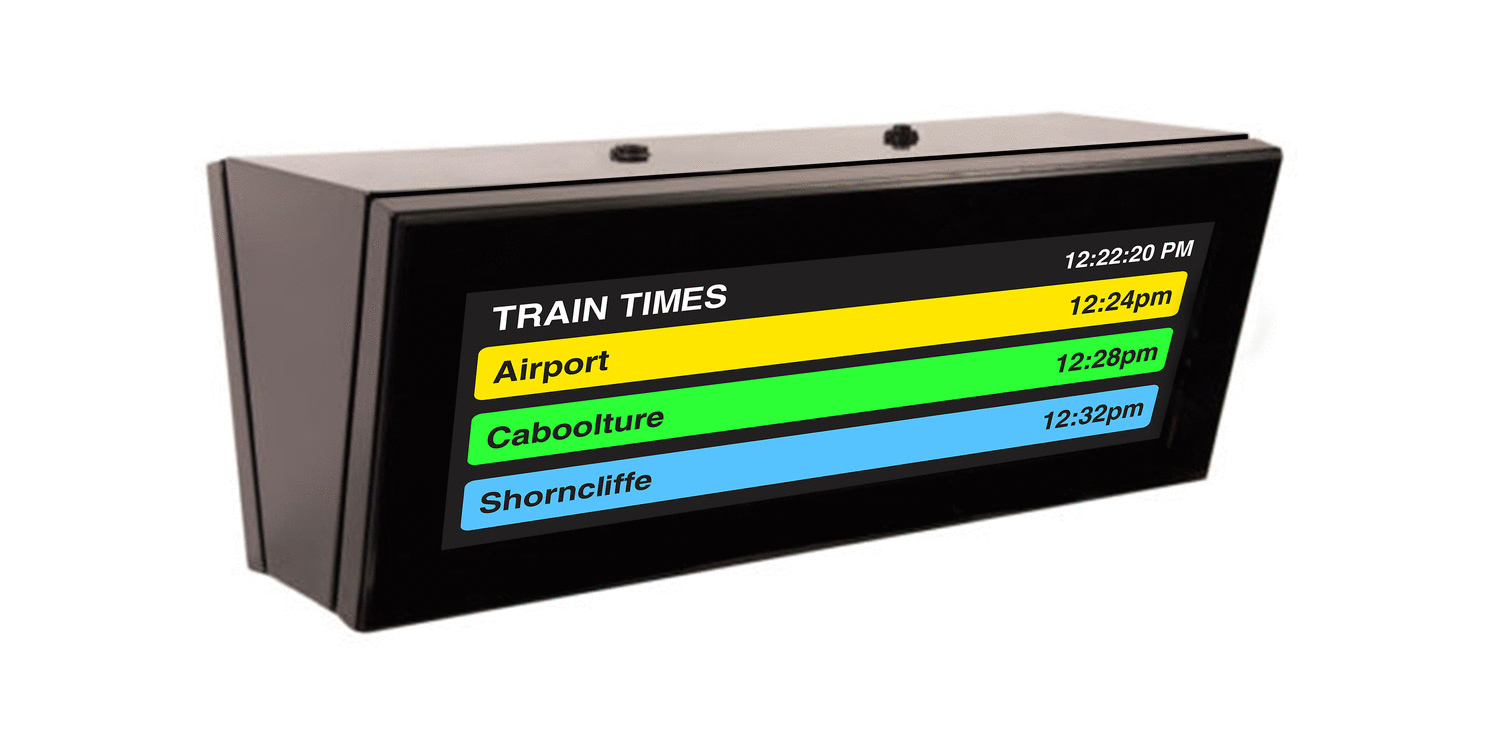 DOUBLE SIDED SLIMLINE OUTDOOR LCD DISPLAY
Attract customer attention from both directions with the MetroSpec sunlight readable LCD Passenger Information Display
Learn more

Metrospec's Doublesided Slimline Outdoor LCD Display benefits:
Thanks to our double sided display you can capture audience attention from two directions, simontaneously.
SCREENS
Our screens are vandal resistant, readable outdoors and have anti-reflective laminated glass.  They can also reach a brightness of up to 2,500 Nits.
LARGE RANGE OF SIZES
Our double sided outdoor LCD displays are IP65 rated.  This means, you can rest easy knowing they are reliable.
Our double sided outdoor LCD display also ranges in size from 19"-55" in landscape or portrait mode and measures ⅓ or ½ of a 55″ display in height.
DURABLE
Our double sided displays are strong, sturdy and weather resistant.  They are also dust proof and are designed to operate 24/7.
PRODUCT DETAILS
The MetroSpec Double Sided Slimline has a powerful and bright display that is readable in sunlight.  Additionally, its long rectangular shape with sleek, modern casing will capture audience attention.

Metrospec Doublesided Slimline Outdoor LCD Display benefits:
You can use our double sided outdoor LCD display to attract attention and deliver a message outdoor or indoors.
CUSTOMISE
Our display enclosures are available in different colours to suit your specifications.
Displays also feature a range of audio connectivity options includig PC/Media players to suit all users.
CONVENIENCE
The doublesided slimline outdoor LCD display is easy to maintain and fully serviceable in the field.
FLEXIBLE
This display comes with various software options to run content and display information on the screen.
TECHNICAL SPECIFICATIONS
The MetroSpec Double Sided Outdoor LCD Display is available in a range of sizes.
Technical Specifications for the 38" is listed below.  Please contact us directly for information on other sizes.
Series Model
Enclosed Monitor
Environmental
Options
Accessories
Software
| DOUBLE SIDED SLIMLINE | |
| --- | --- |
| LCD Panel Size | 38" or 42" ½ Height |
| Resolution | 1920 x 540, 32:9 |
| Brightness | 1500 Nits |
| Contrast Ratio | 1200:1 (typ). |
| Response Time | 8ms (typ). |
| Viewing angle | Viewing angle free R/L 178⁰(Min.) U/D 178⁰ (Min.) |
| Half Light Life Time | 50,000 Hours |
| Active Area | 261.63 (H) x 930.24 (W) mm |
| Power Consumption | 280W |
| STANDARDS | |
| --- | --- |
| EN55002 - CE - IEC60950 | Standard |
| ENCLOSED MONITOR | |
| --- | --- |
| Aluminium | Standard |
| Enclosure Colour Black | Standard |
| Other Colours | Option |
| Dimensions | 485 (H) x 1200 (W) x 200 (D) mm |
| Weight | 50kg |
| Front Glass Anti-Reflective/Laminated | Standard |
| Ceiling Droppers | Optional Certified Load Droppers for wind and vibration loads are also available |
| ENVIRONMENTAL | |
| --- | --- |
| Operating Temperature | -15⁰C to +50⁰C |
| Optional Extended Operative Temperature which includes Intelligent Internal Environmental Control System | -40⁰C to +50⁰C |
| Storage Temperature | -20⁰C to +60⁰C |
| Humidity | 10% to 90% |
| OPTIONS | |
| --- | --- |
| Other Inputs | Ethernet Wi-Fi; USB; 3G/4G; AUDIO, BUILT IN COMPUTER |
| Video Input Options | DVI; VGA; RGB; Composite; |
| Touch Screens | Near Field Capacitive or Infrared |
| Security & Protection Options | Password Protected Remote Control; Condensation Protection Circuitry; Over/Under Temperature Protection; Intelligent Internal Environmental Control |
| ACCESSORIES | |
| --- | --- |
| Remote Control / AAA Batteries (2) | Optional |
| Quick Start Guide | Standard |
| VGA Cable | Standard |
| OPTIONAL ACCESSORIES | |
| --- | --- |
| Wall mount, Side mount, Vesa Mount, Mounting Brackets Available | Optional |
| Bird Deterrents - Rollers or Spikes | Optional |
| Protection Hoods | Optional |
| MetroSpec PID Monitoring System (MPMS) | Optional |
| SOFTWARE | |
| --- | --- |
| MetroSpec Monitoring Software (NMS) | Optional |
| MetroSpec Presenter Software | Optional |
| 4Tel Real Time Scheduling Software | Optional |
| PADS Software | Optional |