LCD Digital Bus Stop Totem
Sunlight readable, weather resistant, sleek & modern IP65 rated enclosure LCD Digital Bus Stop Totem
Learn more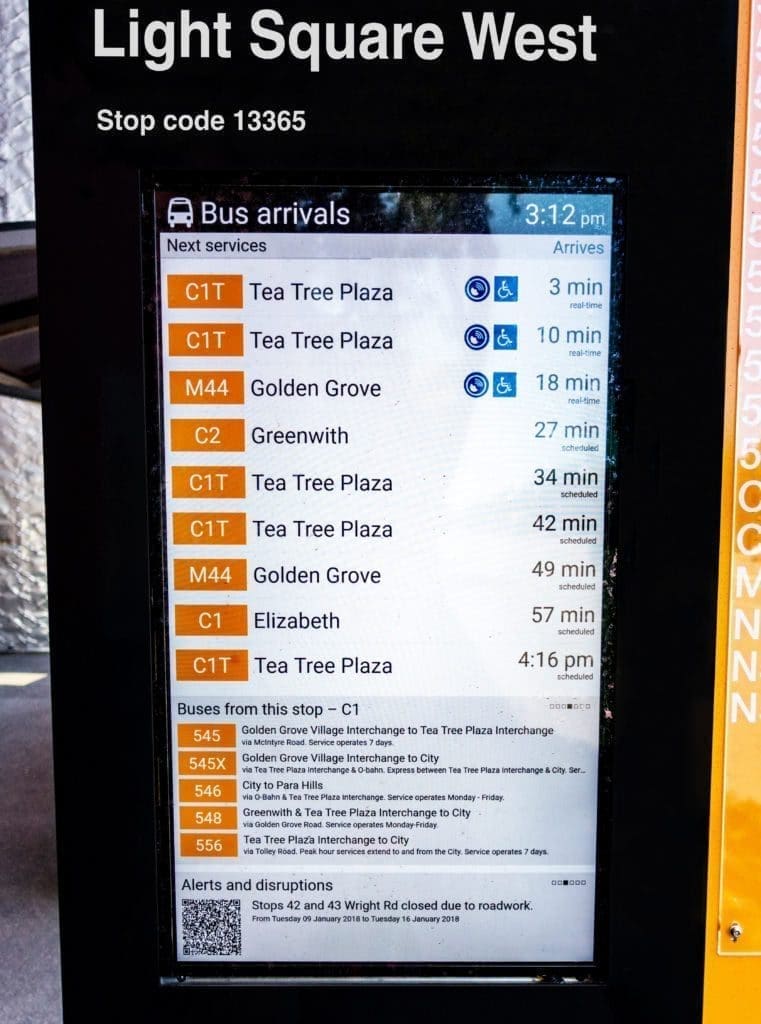 Metrospec LCD Digital Bus Stop Totems Benefits
The Metrospec LCD Digital Bus Stop Totem displays bright, clear, easy to understand passenger timetable information and service messages.
It also features a sleek and lightweight design.  It provides CO2 reduction and is compatible with some solar panels, making it green friendly.
SCREENS
Our vandal resistant displays have brightness of up to 4,000 Nits.  Alternatively put, they are bright enough to read in direct sunlight yet thanks to an auto diming feature, are still readable in dimlight.
Our screens also have a wide viewing angle and use backlighting.  To top things off, they consume low amounts of power – helpful when operating 24/7.
LARGE RANGE OF SIZES
LCD sizes range of sizes from 32" – 86" and can be displayed in landscape or portrait modes.
DURABLE
Our IP65 rated displays are strong, sturdy, weather resistant and dust proof.  They are also designed to operate 24/7.  Additionally, the scratch proof, shatter proof and high impact proof features avalilable make these totems a vandals worst nightmare.
PRODUCT DETAILS
The Metrospec LCD Digital Bus Stop Totem provides timetable information, display service disruption messages, delays, public information, point of sale information, signage changes and much more.  All in all, this product is ideal for public transport, rail, bus and ferry applications.

Metrospec LCD Digital Bus Stop Totem Features
The MetroSpec LPD Totem can have static messages sent to it every 20-30 seconds via Wireless LAN/USB/Bluetooth display netwoks.  It is also capable of receiving and displaying complex, up to date information from a centralised remote source.
CUSTOMISE
Enclosures are available in different colours that feature a range of options such as audio, touch screen and other inputs such as USB, 3G/4G, ethernet and Wi-Fi to suit all users.  LCD displays are also deliverable in a black and white or color option.
CONVENIENCE
The MetroSpec LCD Digital Bus Stop Totem is fully serviceable in the field display.
FLEXIBLE
Various software options are available to run your content and display the information on screen.
TECHNICAL SPECIFICATIONS
The MetroSpec LCD Digital Bus Stop Totem – LCD Panel is available in a range of sizes 32" – 86″.  Technical specifications for the 32" are listed below.  Please contact us directly for information on other sizes or configurations to meet your requirements.
Series Model
Enclosed Monitor
Environmental
Options
Accessories
| SERIES MODEL | 32" LCD Digital Bus Stop Totem |
| --- | --- |
| LCD Panel Size | 32" |
| Resolution | 1920 x 1080, RGB Stripe Arrangement |
| Brightness | 2000 Nits |
| Contrast Ratio | 1300:1 (typ). |
| Response Time | 25ms (typ). |
| Viewing Angle | Viewing angle free R/L 178⁰(Min.) U/D 178⁰ (Min.) |
| Half Light Life Time | 50,000 Hours |
| Active Area | 698.4 (H) x 392.9 (W) mm |
| Power Consumption | 180W |
| STANDARDS | |
| --- | --- |
| EN55002 - CE - IEC60950 | Standard |
| ENCLOSED MONITOR | |
| --- | --- |
| Aluminium | Standard |
| Enclosure Colour Black | Standard |
| Other Colours | Option |
| Dimensions | Tall = 710mm (W) x 2570mm (H) x 110mm (D); Short = 710mm (W) x 2070mm (H) x 110mm (D) |
| Weight | Tall = 120 kg; Short = 90 kg |
| 6.4mm Thickness, HIgh UV Limiting Glass | Standard |
| Stainless Steel Floor Plinth | 790 x 150 mm |
| ENVIRONMENTAL | |
| --- | --- |
| Operating Temperature | 15⁰C to +50⁰C |
| Optional Extended Operative Temperature which includes Intelligent Internal Environmental Control System | -35⁰C to +50⁰C |
| Storage Temperature | -20⁰C to +60⁰C |
| Humidity | 10% to 90% |
| OPTIONS | |
| --- | --- |
| Inputs | Ethernet, Wi-Fi, USB, 3G/4G, Audio |
| Video Input Options | DVI / VGA / Composite / RGB |
| Bird Deterrents | Bird Rollers, Bird Spikes, Protection Hoods |
| Touch Screens | Near Field Capacitive or Infrared |
| Security & Protection Options | Password protected remote control, Condensation protection circuitry, over/under temperature protection, Intelligent Internal Environment Control |
| Software Options | MetroSpec Display Monitoring System (MDMS), MetroSpec Network Monitoring Software (MNMS), Third Party Scheduling Software |
| ACCESSORIES | |
| --- | --- |
| Remote Control / AAA Batteries (2) | Standard |
| Quick Start Guide | Standard |
| VGA Cable | Standard |