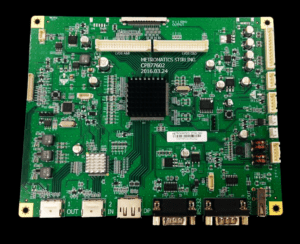 METROSPEC STIRLING – LCD CONTROLLER BOARD
Powerful, reliable, LCD controller board for high resolution LCD panels
Learn more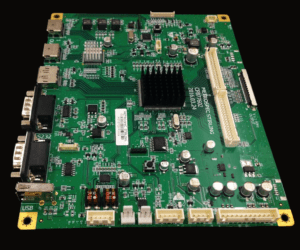 BENEFITS OF A METROSPEC LCD CONTROLLER BOARD
This LCD controller board allows you to control all aspects of a display.  Specifically, it's what allows you to display images, videos and information on high resolution LCD panels.
THE PERFECT LCD CONTROLLER BOARD FOR ULTRA HIGH DEFINITION DISPLAYS
This LCD Controller board or "A/D Card" supports up to 3840 x 2160 Ultra High Definition (UHD) Panels.
DAISY CHAIN FOR VIDEO WALLS
This LCD Controller Board also has HDMI 2.0 Daisy Chain ability including 4Kx2K Resolution.
CONFIGURATION & ACCESS
This LCD Controller Board's 7 Button Keypad Interface and on-screen menus allows for easy adjustments to the system with access port for future firmware updates.
PRODUCT DETAILS
The MetroSpec Stirling LCD Controller Board is used to control HD Panels, display images, videos and information on high resolution LCD Panels.  The Stirling's features are suited for applications in commercial digital signage, industrial outdoor digital signage and in harsher conditions where LCD Panels are used such as in defence and rail environments.

COMPATABILITY
The perfect interface solution for LCD panels of most sizes.
COMPLIANCE
It complies with HDCP 2.2, HDMI 2.0, Display Port V1.2a, and RoHS.
SUPPORT
It supports UHD panels (Vx1, eDP Interface), QHD (2560×1440@60Hz) panel with LVDS Interface.
FLEXIBLE
Various input and output options including LCD dimming and fan control are available.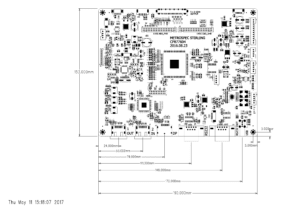 TECHNICAL SPECIFICATIONS
Technical specifications for the MetroSpec Stirling LCD Controller Board are listed below. Please contact us directly for further information and pricing.
Stirling Model
Features
Daisy Chain
Environment
Item
Specification
Hardware
Target panel
V by One = 3840 x 2160 @ 60Hz, Vx1 Interface (8lane)
eDP = 3840 x 2160 @ 60Hz, eDP Interface (8ch)
LVDS = 2560 x 1440 @ 60 Hz, LVDS Interface (4ch)
RS-232C
DSUB 9P – Male (Default)
RJ45 (Optional)

Fan Control Port
2 x 12V BLDC Motor Fan (Optional)
Temperature Sensor
Internal
Light Sensor
External (Option)
Input
Video
HDMI 2.0 x 1 (HDCP 2.2)
DP v1.2a x 1
SDI x 1 (Optional)

Key (7 Keys)
-,+, Left, Right, Source, Menu, Power
IR (Infra-Red)
Remote Control
RS-232C
DSUB 9P x 1 (Male): Serial Control,
RJ45 (Optional)

Output
Video
HDMI 2.0 x 1: Output for HDMI Input
SDI x 1: Output for SDI Input (Optional)

RS-232C
DSUB 9P x 1 (Male): Serial Control
Speaker Output
7W + 7W Typical.
Power
Power
12V, 5V, S5V Input
Key Features
 HDCP 2.2 Compliant
 HDMI 2.0 Compliant
 Display Port V1.2a Compliant
 Supports HDMI 4Kx2K Input – HDMI, DP
 RoHS Compliance
 Supports software update through USB Memory
 Supports UHD Panel (Vx1, eDP interface)
 Supports up to QHD (2560x1440 @ 60Hz) Panel (LVDS Interface)
 Seven-button keypad interface and on-screen menus allow adjustments to the system
 Supported RS-232C
 Supported RS-232C by RJ45 interface
 IR: Remote Control
 Power: 12V, 5V, 5V Input
 LCD Dimming Control
Auto Dimming Control by Light Ambient Sensor (Optional)
Manual Dimming Level Control

 2 x Fan Control Port
Automatic Fan Driving by Internal Temperature Sensor
Manual Fan Driving

 Supports the Daisy Chain Mode of 4K2K Resolution (Only HDMI Input)


| Input Resolution | Specification | Remarks |
| --- | --- | --- |
| 3840 x 2160 @ 60Hz | Supports up to 9 units | Only use HDMI 2.0 Cable |
| 3840 x 2160 @ 30Hz | Supports up to 16 units | |
| 1920 x 1080 @ 60Hz | Supports up to 25 units | |
| | Temperature | Humidity |
| --- | --- | --- |
| Operation | 0 to 50⁰C | 10 to 80% |
| Storage | -10 to 70⁰C | 10 to 90% |
LCD CONTROLLER BOARD APPLICATIONS
Airports
Advertising
Businesses
Education Facilities
Hospitality
Public Transport
Retail
Stadiums and Arena's
Tourism
Frequently Asked Questions
How do I know whether I need a standard panel or a PD LCD Panel?
You will need a PD LCD Panel if you plan on the following: running your LCD Display more than 6 hours a day as a standard panel is only designed to operate 4-8 hours per day; or if you require your LCD Display to be viewable outdoors you will definitely need a PD panel which is up to 4 times brighter than a standard LCD panel.
What is the difference between a MetroSpec H Series and a MetroSpec X Series LCD Display?
Both models are highly reliable. The difference is the X-series, is equipped with a door, which makes on site servicing possible.
H-series does not have a door, making it cheaper by reducing your capital expenditure. But that is not to say the H-series is not serviceable. It most certainly is, it just requires a different service and maintenance philosophy. By having a rotatable pool of spares, displays can be quickly swapped out and sent to a service technician for repair.
You can find further information on our blog Display Maintenance Philosophy

ENQUIRE ABOUT THE METROSPEC STIRLING LCD BOARD CONTROLLER TODAY!