The Problem
The TV-B-Gone (pictured below) is a small universal infrared remote control with one function, turning TV's off. This simple universal remote was quickly adopted by pranksters to turn off public LCD displays. The latest version has a range of 100 meters, allowing pranksters to turn off entire fleets of public displays at railway and bus stations or in shopping centers with a single click.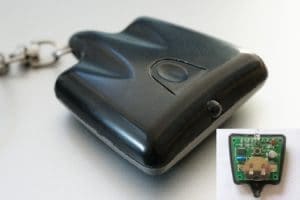 Unexpectedly shutting down a LCD Public Information Display at a railway or bus station leaves commuters confused, frustrated and angry, while in shopping malls the unexpected shut down of an LCD used for advertising can lead to lower revenues.
Stop TV-B-Gone Attacks
The MetroSpec Infrared (IR) lockout provides a solution to this TV-B-Gone nuisance plaguing transport authorities and shopping malls. It works as a gate keeper, preventing these and other unauthorised remote controls from turning off public information displays (PID's).
All remote control signals and blocked until a 4 digit security pin code is entered. Once the correct 4 digit code is entered the user is free to use the remote control for up to 10 minutes before the IR lockout is automatically re-established.
Features
Locks out unauthorised remotes such as TV-B-Gone.
User programmable lockout code.
Automatically re-locks after 10 minutes.
Low power.
Small footprint.
Compatible with the NEC IR transmission protocol.
Retrofittable to existing systems.
Installation
To effectively stop a TV-B-Gone attack and prevent tampering in public spaces, the IR lockout solution is securely installed inside the LCD display by a qualified service technician. It is placed between the IR sensor and LCD control board and will block all IR control signals until the correct pin code is entered.
The MetroSpec IR Lockout comes with a one year warranty.  Contact us now for more information on +61 7 3868 4255 or sales@metrospec.com.au