LightRail 2017
We were privileged to have our MetroSpec Double Sided Slimline LCD Passenger Information Display showcased at LightRail 2017 on the Gold Coast.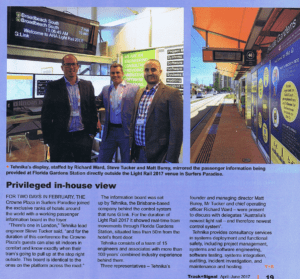 Published in an article by Track & Signal Magazine.
The exhibition was located 50 metres away from one of our displays at the Florida Gardens Light Rail stop.  We couldn't have asked for a better location.  Tehnika, the company that controls the Gold Coast's G:link light rail system, showcased a MetroSpec LCD Passenger Information Display at their expo booth.  with their booth located just 50 meters from a rail stop, they were able to mimic our display as seen by commuters daily.
MetroSpec LCD Passenger Information Display – G:Link Project – Stage 1
Due to the ongoing need for public transport information, people use these displays 24/7 in all kinds of weather.  As a result, we have built them tough.
The installation of the Gold Coast models occurred in late 2013.  Since then, passengers have used these displays 24 hours a day/7 days a week.  Additionally, our Passenger Information Displays have been exposed to the Gold Coast's humidity, heat, severe storms, high winds, cool winters and sea-breezes.  As a result of their high quality build they have been able to withstand all of these elements.  To this day, our displays provide service information for Gold Coast public transport commuters exactly as planned.  Talk about a winner of a product!
We couldn't be prouder to have had our displays showcased at LightRail 2017.  We were so happy to demonstrate exactly how our products continue to positively impact public transport commuters.
To learn more about the different products we supply or to get in contact with one of our helpful representatives please click here or call +61 (0) 7 3868 4255.