RETAIL DIGITAL SHELF DISPLAYS
Our LCD Retail Digital Shelf Displays are compact, sleek and lightweight.  This display makes the perfect promotional advertisement screen for POS applications in retail business and more.
Learn more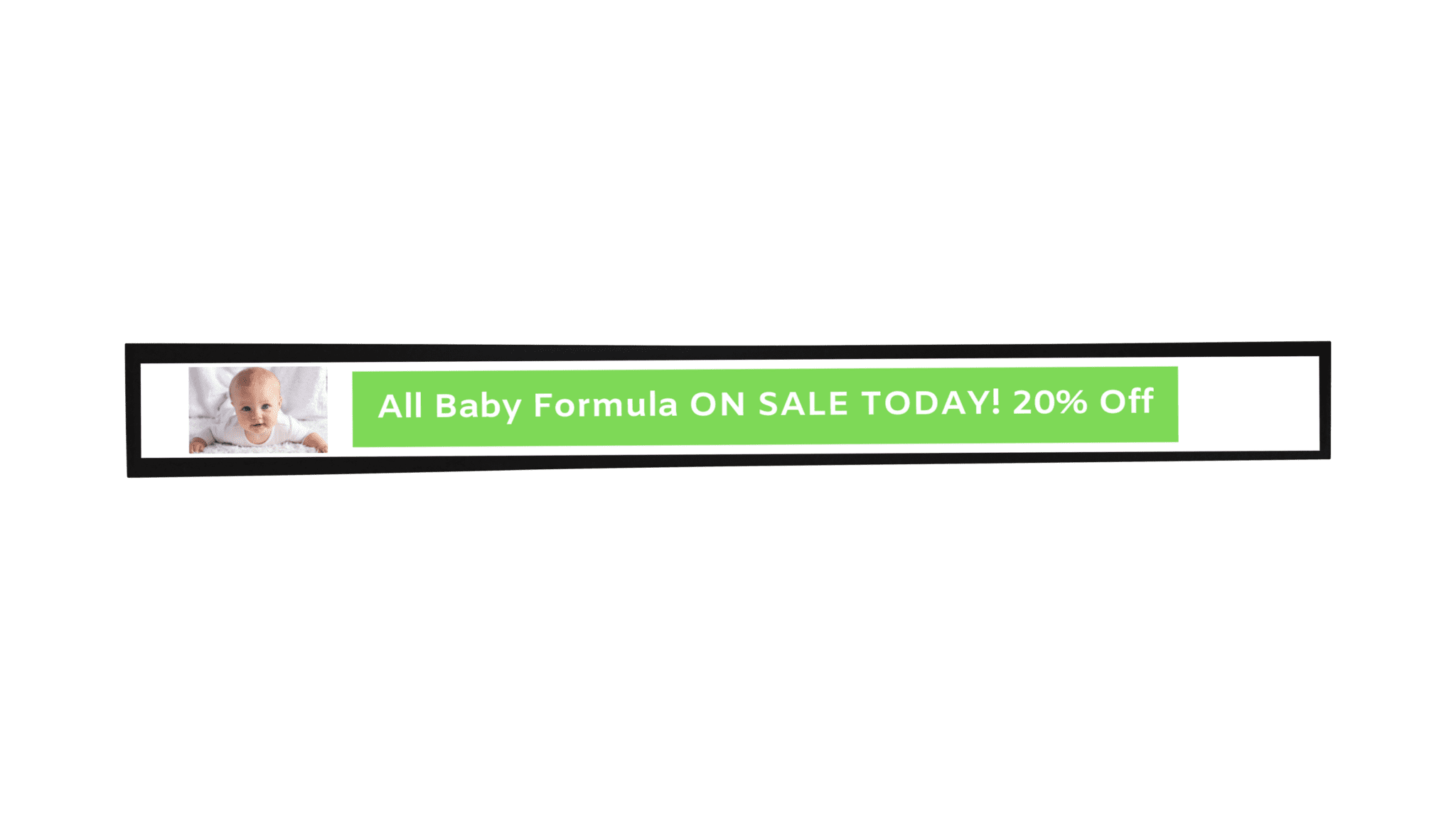 RETAIL DIGITAL SHELF DISPLAYS BENEFITS
Seriously, these Electronic Shelf Displays are amazing.  Check out the benefits below.
INFORMATION ABOUT OUR LCD DIGITAL DISPLAY SCREEN
Superior picture quality and high resolution make this LCD display one of the most amazing indoor digital displays on the market.  In fact, its brightness of 700 nits makes all images, videos and advertisements eye catching for viewers.
TWO MODELS TO CHOOSE FROM
There are two models available.  The MS22A is a standalone unit.  It displays MP4 Video, JPG and BMP Images directly through its Micro USB Port.  The M22B contains an inbuilt computer, wireless antenna and can be updated remotely using Wi-Fi.  It can also be synched with the MS22A Display to enable more advertising power.
DIGITAL SIGNAGE WITH A SLEEK, SLIM AND LIGHTWEIGHT DESIGN
The MetroSpec Digital Shelf Display is one complete LCD Display that is 22.9″ or 58.70cm in length.  It provides a single uninterrupted seamless image.  It measures 16.5mm thickness! Making it ideal for Edge Shelving.  It's compact, sleek design also make it the perfect point of sale tool for retail and advertising display applications.
RETAIL DIGITAL SHELF DISPLAY DETAILS
Features that set this display apart from others on the market are it ease of use and easy set up.  It is also super light weight, doesn't protrude much past the end of the retail shelving units and can be mounted securely in portrait or landscape modes.
Additionally, the 700 Nit Brightness of the display screen will capture audience's attention from a distance and close up.  To top things off, its optional inbuilt PC and wireless access makes displaying valuable information and updating stunning videos in real time a breeze.
MetroSpec Indoor Screen Benefits
Attract attention or deliver a message by displaying it in your store.
convenience and flexibility
The MetroSpec Retail Digital Shelf Display comes with different mounting configurations.  For example, it can be easily mounted securely to the shelves in portrait or landscape mode.  Our Shelf Digital Signage screen is also easily assembled. Plus, it is also ultra light weight at 0.7kg.  To top things off, the MS22B Model comes with integrated hardware.  This enables users to immediately produce digital content that engages audiences.
RELIABLITY
The Retail Digital shelf LCD Display has a long product life cycle and has a 24/7 50K LCD Life.  Ths unit has also been put through a 500hr reliability test to make sure it's durable enough for all indoor applications.  To top things off MetroSpec products are reliable and require little maintenance.  In fact, we have a return rate of 0.05% for all our products.  So you can rest easy when purchasing your product through us.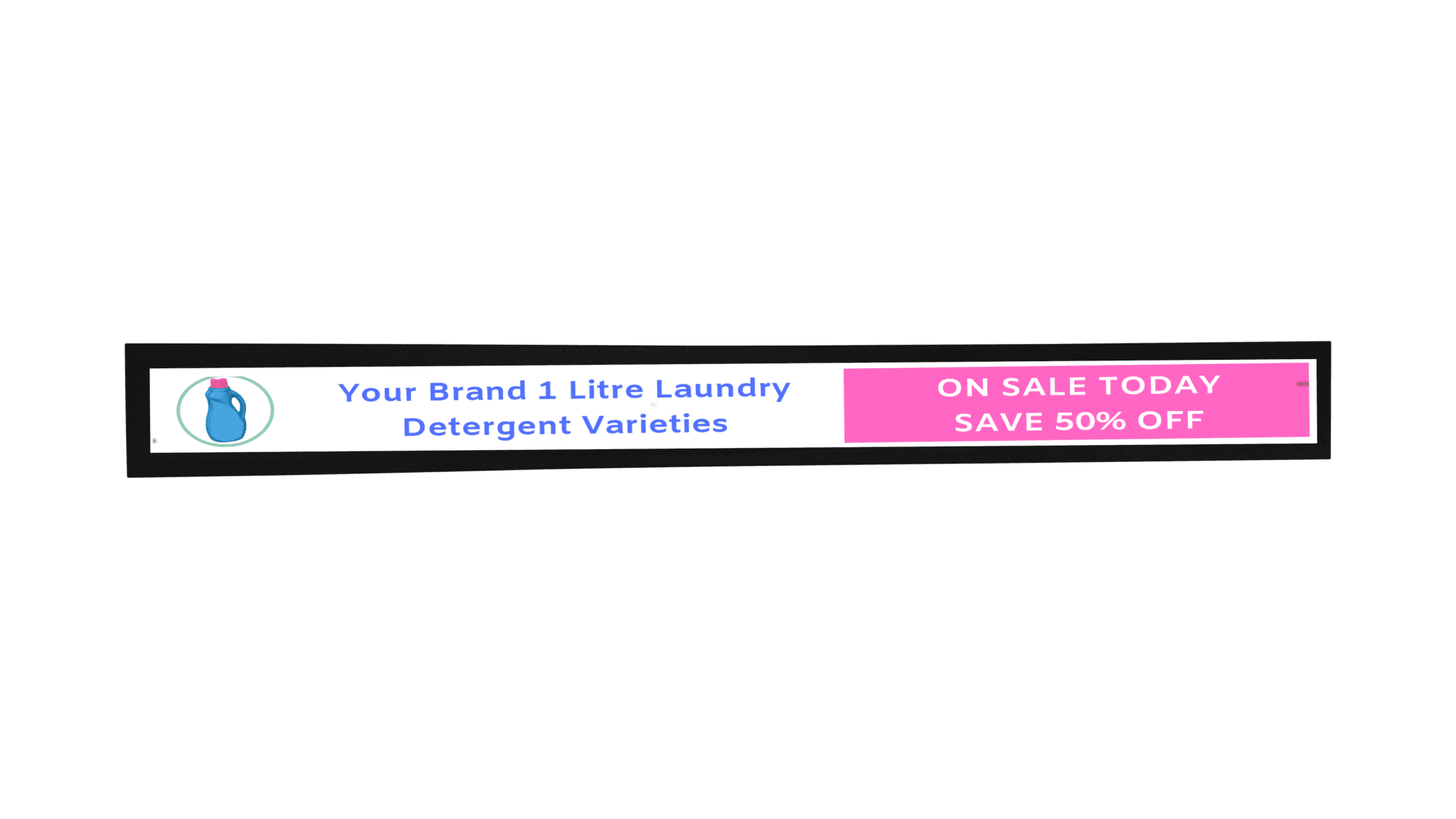 TECHNICAL SPECIFICATIONS
The sleek design and slim Digital Shelf Signage makes for the ideal POS Digital Advertising Display Screen.  More Technical Specifications are listed below.  Please contact us directly for more information.
Retail Digital Shelf Display
MetroSpec
Digital Shelf Display
LCD Panel Size
22.9" Stretched
Resolution
1920 x 165 Pixels
Brightness
700nits
Contrast Ratio
1000:1 (typ.)
Power Consumption
12W (MS22A), 20W (MS22B)
Viewing Angle
178/178 degrees
Dimensions
587.08mm x 62.05mm x 16.5mm
Weight
0.67 kg (MS22A); 0.7 kg (MS22B)
Surface Treatment
Painted Black
I/O
MS22A: I/O Signal Input Micro HDMI x 1; Micro USB x 1

MS22B: I/O Signal Output = Micro HDMI x 1; I/O (Others) = Micro USB (Ethernet/Storage) x 1; Type C x 1 (Power Out); System = ARM Cortex A35 Quad Core 1.3 GHz, 1GB DDR3, 8 GB eMMC
Input
AC-100V-240V 50/60 Hz
Wall Mount
2 Holes 190mm Distance. 2 x M3 4mm Screws Required
Modes
Portrait/Landscape
Operation Hours
24/7
Product Life
50,000 Hours
Enquire about our Retail Digital Shelf Displays Today!