MetroSpec's Newest Digital Bus Stop Displays Delivered In Adelaide
The New MetroSpec LCD Digital Bus Stop Totem comes equipped with Inbuilt Voice Annunciators and Hearing Loops
Metromatics recently installed their newest digital bus stop displays for the South Australian Department of Planning.  The MetroSpec LCD Digital Bus Stop Totems with inbuilt Voice Annunciators and Hearing Loops were installed for commuters at various Adelaide City Bus Stops.  Locations include Tea Tree Plaza, Paradise and Klemzig O-Bahn Interchanges and the Dumas Street Interchange at Mount Barker.
Digital Bus Stop Display Features
Sleek, Modern and Thin Design
"Plug and Play" Functionality with inbuilt PC and 3G
Sunlight Readable
Weatherproof & Vandal Resistant
Displays bright, clear and easy to understand passenger information and service messages
Voice annunciators and Hearing Loops
These sleek, weather resistant bus stop totems feature a 32" High Bright LCD Display which is readable in sunlight.  It also displays real-time arrival times of buses as well as other service information for commuters.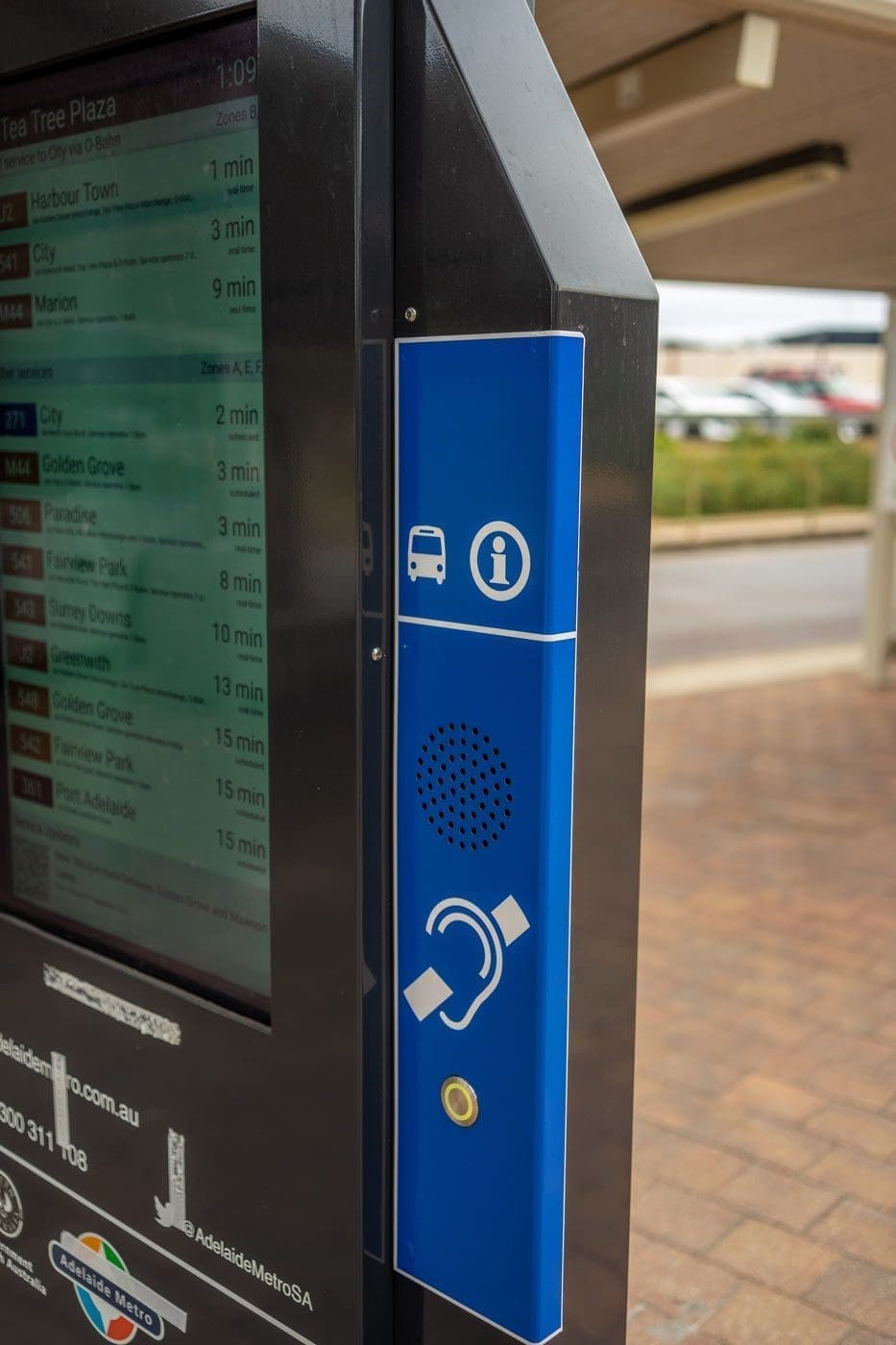 Most noteworthy, is how our new digital bus stop displays help the visually and hearing impaired easily attain real-time travel information.  For example, visually and hearing impaired commuters can use the totem's voice annunciator and hearing induction loop service, to find out the latest bus arrival and departure times.
Easy To Use
Users can access the inbuilt voice annunciators and hearing loops in a variety of ways.  For example, users can simply push the button on the totem to activate the reading of timetable information.  Alternatively, those with hearing aids can also tune into the voice annunciator broadcast simply by activating the "T-Switch" on their hearing device.
To top things off, our Digital Hearing Loop System also contains an inbuilt coil.  This coil enables it to broadcast information to a wider height range with a strong signal and also little interference.  Easy installation is also a great feature.  This is because perimeters don't have to be built into the floor to receive communication.
Finally, the LCD Bus Stop Totem also has an inbuilt wireless PC.  This PC allows it to connect back to existing real-time passenger information networks.  As a result, information can be modified or updated if there are any network disruptions.
We are excited about this new product and the benefit it will bring to Adelaide's commuters.  These new Digital Bus Stop Displays are a really great addition for any public transport infrastructure looking to make its services more inclusive and easy to use.
Contact Us
If you would like to find out more about our new Digital Bus Stop Displays, please contact us.