THE MOST VERSATILE PIECE OF OUTDOOR PORTABLE DIGITAL SIGNAGE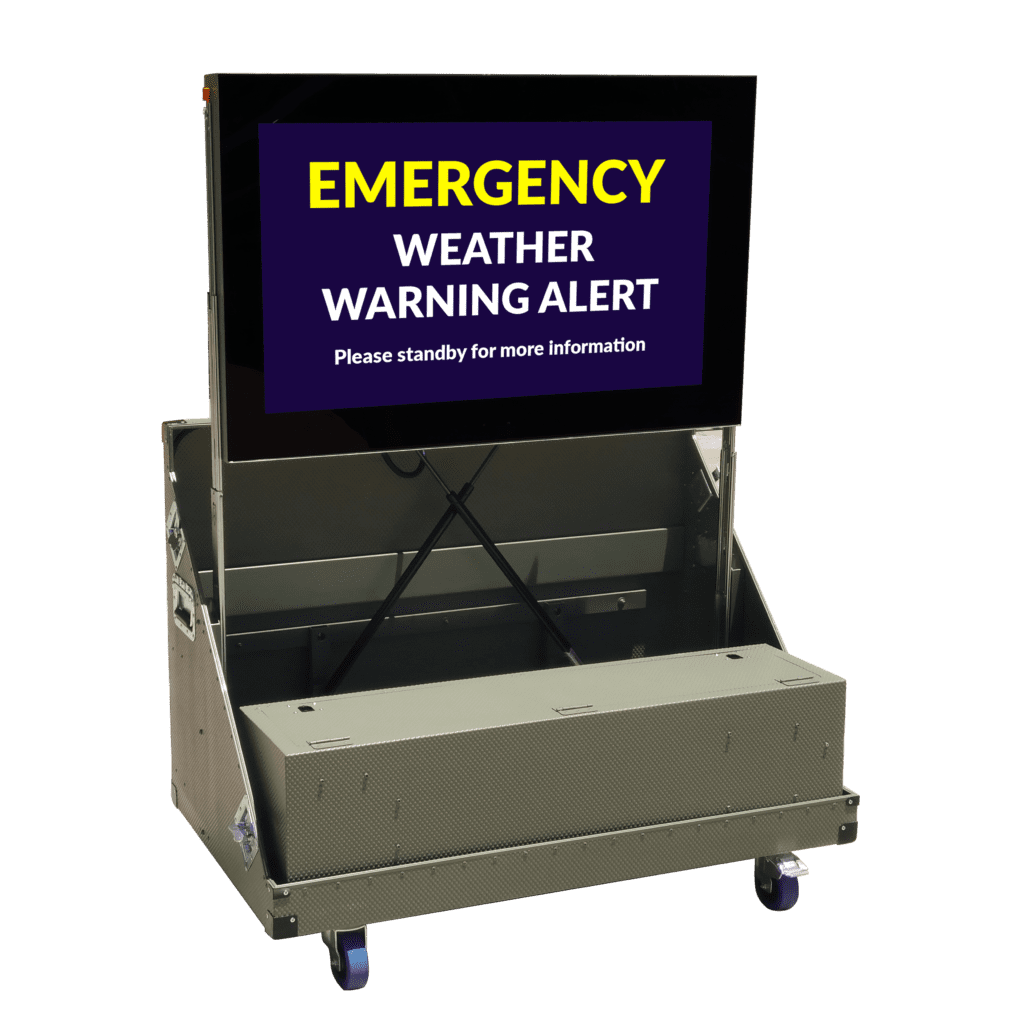 We recently launched our new Portable Digital Signage and couldn't be more excited to share it with you.
This machine has a variety of applications, making it one of the most versatile pieces of digital signage.  This display is incredibly useful in the event of a crisis.  Its portability allows you to strategically place this display where you can most easily alert the public of danger and provide directions to safety.  Alternatively, you can also use this machine to redirect traffic during roadworks or as an advertising display.  This product also makes it easy for businesses to alert foot and vehicular traffic of a sale that could otherwise go unnoticed.  It's high-bright LCD screen makes it perfect for outdoor use.  This portable display is sure to attract attention, day and night.
To top things off, our Outdoor Portable Emergency Digital Signage is fully customisable.  This includes everything from the size of the screen to the case the houses it.  You'll also get to chose between different battery and connectivity options to suit your budget and needs.
PORTABLE DIGITAL SIGNAGE IN THE FIELD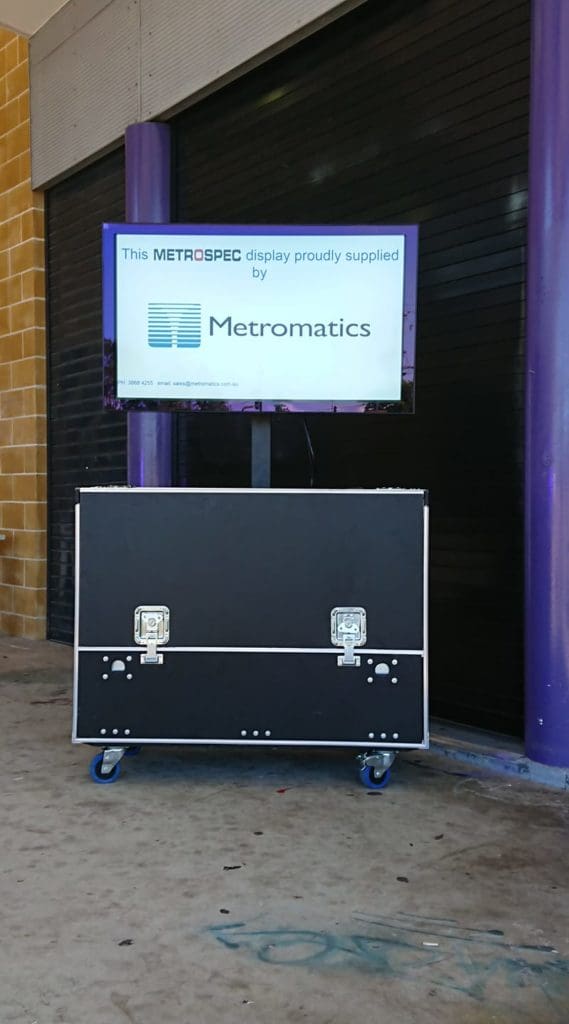 Most recently, a 46″, 1500nit battery operated MetroSpec Outdoor Portable Digital Signage Display was used at the Redcliffe, QLD youth space.  We also proudly showcased our outdoor portable high brightness LCD screens at the Biz Expo in Brendale, QLD with great response.
You can read more about other applications of this product here.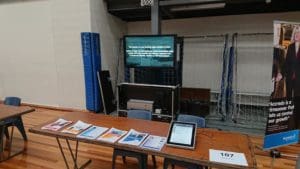 HOW TO USE METROSPEC'S PORTABLE DIGITAL SIGNAGE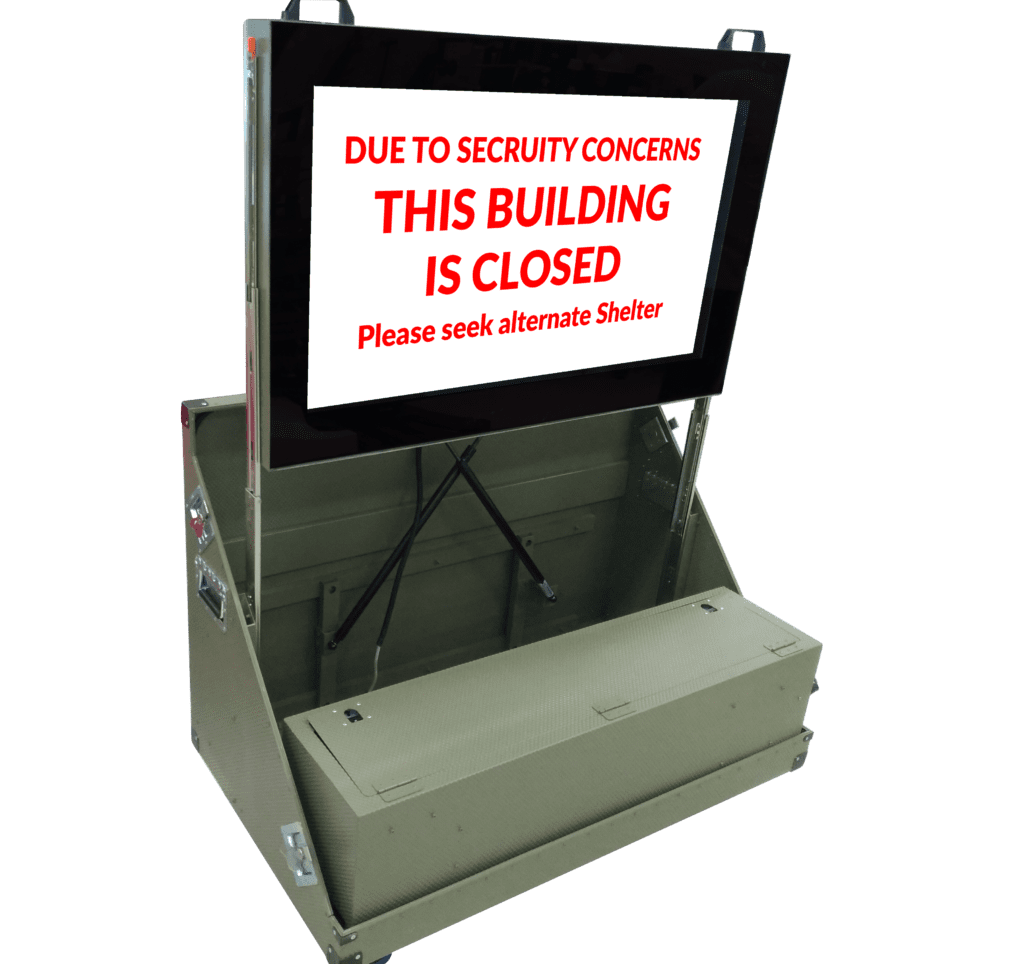 Wheel it to the desired location
Apply the wheel brakes
Remove the lid and lift the LCD by the handles until the gas struts take over and elevate it to its full height of 1.7 metres
The sign then will turn on displaying your message.
To top things off you can also control this sign and run content from a remote location via wireless or 3G/4G.  As a result, allowing you to provide real-time, up-to-date information.  Furthermore, this machine is completely serviceable in the field should the rare issue arise.
Finally, you'll also have several battery options available.  This includes Lithium Ion to Lead Acid.  Both can last up to 12 hours.  In addition, a handy battery indicator will alert users when the battery power is running low or needs to be hooked up to mains power.  This feature will help you keep your digital signage running smoothly.
LEARN MORE ABOUT METROSPEC'S PORTABLE DIGITAL SIGNAGE
Find out more about Our Outdoor Portable Digital Signage.  You can also view our range of products here.  Alternatively, you can also contact us here to schedule an in house demo.