Our MetroSpec Double Sided Slimline LCD Passenger Information Display was showcased at LightRail 2017.  This Exhibition was at the Gold Coast published in an article by Track & Signal Magazine.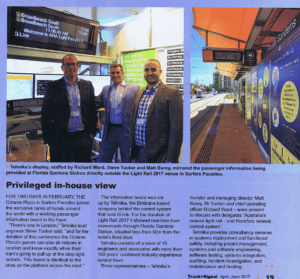 Tehnika control the G: link light rail system on the Gold Coast.   The Florida Gardens Light Rail Stop is 50 Metres from where the exhibition was held.    Due to their position, Tehnika placed one of our MetroSpec LCD Passenger Information Displays (similar to what we supplied for the G: link project) on their booth.  As a result, they were able to mimic the passenger information being displayed at the light rail stop across the road.
MetroSpec LCD Passenger Information Displays G:Link Project – Stage 1
The original models were installed in late 2013.  Providing passengers of the G: link with real time passenger information 24 hours a day / 7 days a week.  The MetroSpec LCD Passenger Information Displays are built tough. Consequently, the displays are exposed to the weather elements of the Gold Coast such as humidity, heat, severe storms, high winds, cool winters and sea-breezes.  They continue to provide service information to the Gold Coast Commuters which is exactly what they were designed for.