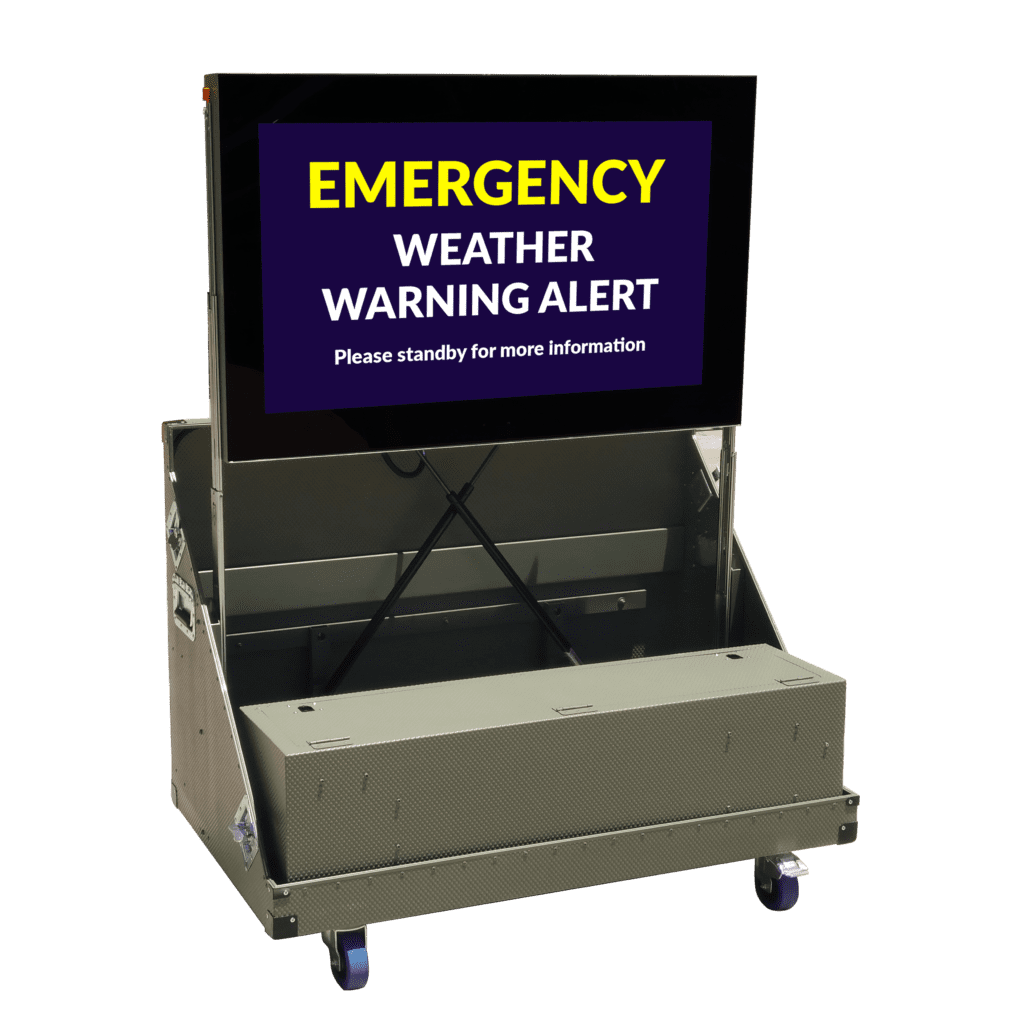 Outdoor Portable Emergency Digital Signage
Sunlight Readable. Portable & Industrial. Weather Resistant. Highly visible, distributing urgent messages in an effective manner.
Learn more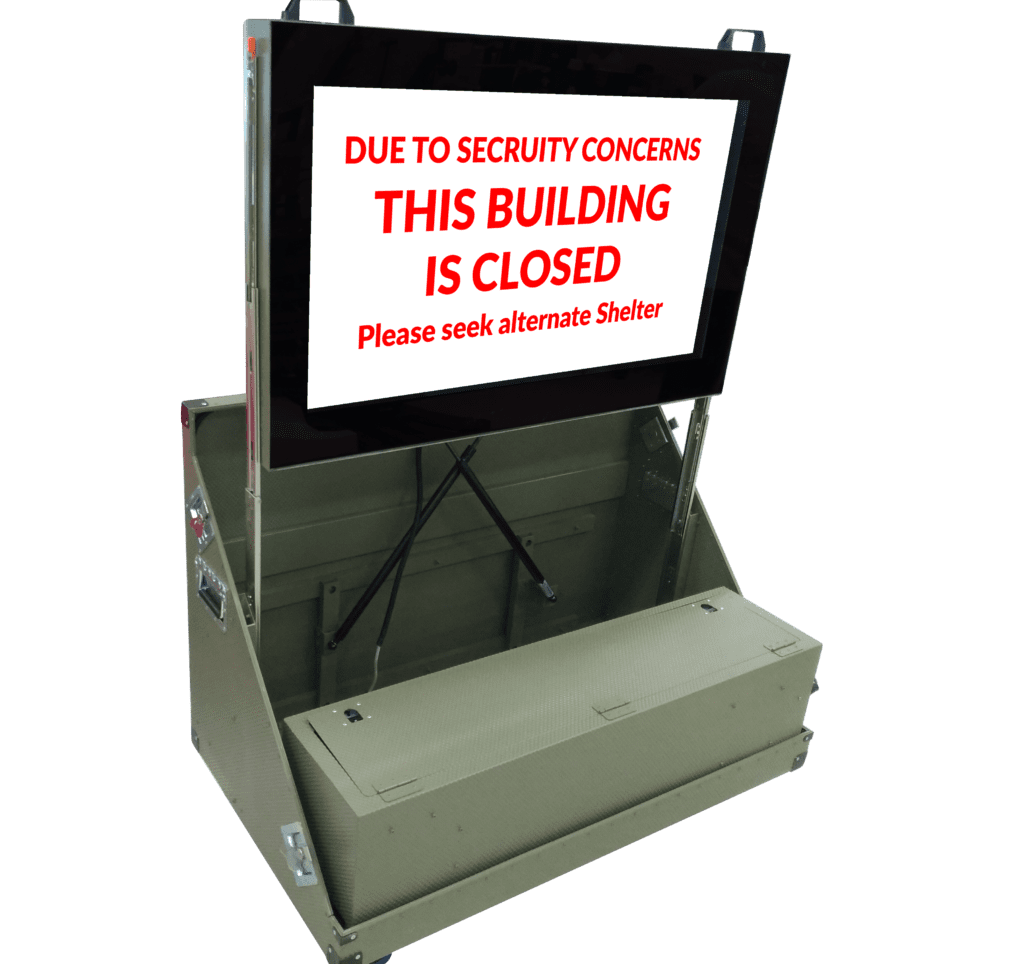 MetroSpec Portable Emergency LCD Digital Signage Benefits
In the event of a crisis, our strategically placed portable digital signage can alert the general public of danger and provide directions to safety.
SCREENS
Our vandal resistant displays have brightness of up to 4,000 Nits.
LARGE RANGE OF SIZES
Our IP65 rated displays range in sizes from 24" – 86" in landscape or portrait modes.
DURABLE
Our displays are strong, sturdy, weatherproof, dust proof and designed to operate 24/7.
PRODUCT DETAILS
To use MetroSpec's Portable Emergency Digital Signage, simply wheel it to a desired location, apply the wheel brakes, remove the lid and lift the LCD by the handles until the gas struts take over and elevate it to its full height of 1.7 Metres.  The sign then will turn on displaying your message.  You can also controll this sign from a remote location via wireless or 3G/4G to provide real time information.
To top things off, its ease of use makes this Portable Emergency Digital Signage one of the most effective emergency response signals or network disruption notification services.
Furthermore, the MetroSpec H Series LCD displays used in this product are fully sealed and available in a range of sizes from 32″ to 86″ with a brightness of 4,000 Nits in a landscape mode and wide viewing angle of 178 degrees.  The standard glass used to protect the display is 6.4mm high, UV limiting and shatterproof.  Additionally, the H-series display operates in all environments at temperatures from -15 to 50 degrees Celsius.
Other handy features include the side handles, industrial aluminium casing and wheels (that house the display, battery and gas assisted struts).  These attributes make this portable emergency digital signage easy to maneuver.  You can also use the side handles to neatly compact the unit into a cube for storage when not in use.
You'll have several battery options available from Lithium Ion to Lead Acid which can last up to 12 hours.  Furthermore, a handy battery indicator advises when battery power is running low and when it needs to be hooked up to mains power.
Other options available include flashing lights, audio, video inputs, built in computers, touch screens, bird deterrents, extra security, software and much more.
METROSPEC PROTABLE EMERGENCY LCD DIGNAL SIGNAGE BENEFITS
You can customise your MetroSpec Portable Emergency LCD Digital Signage to meet your requirements.  You can also customise the portable case hourses depending on the screen you use.  In addtion, you'll also get to choose between different batteries or various connectivity options.
CONVENIENCE
You can service the MetroSpec Portable Emergency Digital Signage out in the field for your convinience.
FLEXIBLE
Various software options are available to help you run your content and display the information.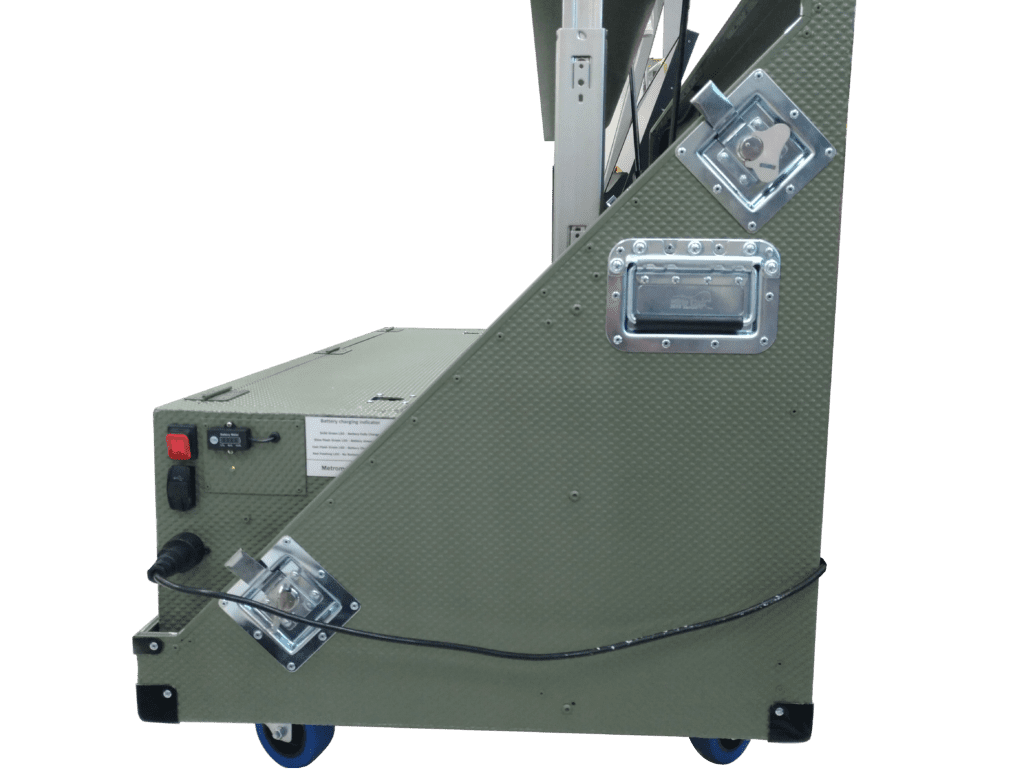 TECHNICAL SPECIFICATIONS
The MetroSpec Emergency Digital Signage – LCD panel is available in a range of sizes 32" – 86". Technical specifications for the 46" are listed below. Please contact us directly for information on other sizes or configurations to meet your requirements.
Series Model
Enclosed Monitor
Environmental
Options
Accessories
Software
Case Specs
Battery Compart.
Battery Specs
| SERIES MODEL | H Series Display Specifications |
| --- | --- |
| LCD Panel Size | 46" LED Backlit |
| Resolution | 1920 x 1080, RGB Stripe |
| Brightness | 1500 Nits |
| Contrast Ratio | 4000:1 (typ). |
| Response Time | 8 ms (typ). |
| Viewing Angle | Viewing angle free R/L 178⁰(Min.) U/D 178⁰ (Min.) |
| Colours | 10bit (8bit+FRC) 1073.7M |
| Active Area | 572.67 (H) x 1018.08 (W) mm |
| Power Consumption | 205W |
| STANDARDS | |
| --- | --- |
| EN55002 - CE - IEC60950 | Standard |
| ENCLOSED MONITOR | |
| --- | --- |
| Aluminium | Standard |
| Enclosure Colour Black | Standard - other colours are options |
| Finsih | Powdercoat |
| Dimensions | 1185mm (w) x 740mm (h) x 150mm (d) |
| Weight of Display only | 50 kg |
| Glass | 6.4mm Thickness, High UV Limiting Glass |
| VESA Mounting Dimensions | 400 x 400 mm |
| ENVIRONMENTAL | |
| --- | --- |
| Operating Temperature | -15⁰C to +50⁰C |
| Storage Temperature | -20⁰C to +60⁰C |
| Ingress Protection | IP65 |
| Humidity | 10% to 90% |
| OPTIONS | |
| --- | --- |
| Inputs | Ethernet Wi-Fi; USB; 3G/4G; AUDIO, SOLAR |
| Video Inputs | DVI; VGA; RGB; Composite |
| Speakers | 2 x 10 Watt Speakers |
| Security & Protection Options | Password Protected Remote Control; Condensation Protection Circuitry; Over/Under Temperature Protection; |
| ACCESSORIES | |
| --- | --- |
| Remote Control / AAA Batteries (2) | Optional |
| Quick Start Guide | Standard |
| VGA Cable | Standard |
| Interfaces | |
| --- | --- |
| Standard Inputs | HDMI / RS-232 |
| Built in Computer | Yes |
| Auxiliary Board Options | Control Interface = RS-232; Internal Temperature & Humidity Sensor = No; Open Door Sensor = No; Ventilation Control = Yes; TFT LED Backlight Control = Yes; |
| Front Sensor Board Options | Status Indicator = Yes; Light Sensor = Yes; Infrared Interface = Yes |
| SOFTWARE | |
| --- | --- |
| MetroSpec Display Monitoring Software | Optional |
| PADS Software | Optional |
| Case Material | Aluminium or Plywood |
| --- | --- |
| Wheels | 4 Casters / 2 or 4 Lockable |
| Lifting Handles | 4 |
| Dimensions (mm) L X H X D | 1200 x 900 x 700 |
| Weight | 35Kg Aluminium not incl. batteries or electronics |
| IP Rating | IP65 |
| --- | --- |
| Battery Charger Input Voltage | 240 VAC |
| Battery Charger Output Voltage | 24 VDC |
| Operating Temperature (Ambient) | 0 to 50 degrees C |
| Battery Chemistry | Lithium Ion Phosphate |
| Battery Configuration | 2 x 12 VDC or 1 x 24 VDC with internal cooling |
| Battery Capacity | 50AH/75AH/100AH |
| Battery Charging Current | 10A |
| Weight | 8Kg + Battery Weight |
Battery Type
V-LFP-12-50
V-LFP-24-50
V-LFP-12-75
V-LFP-12-100
V-LFP-24-100
Voltage
12V
24V
12V
12V
24V
Configuration
2 Batteries in Series
1 Battery
2 Batteries in Series
2 Batteries in Series
1 Battery
Capacity
50AH
50AH
75AH
100AH
100AH
Operational time @ full brightness
5.5 Hours
5.5 Hours
8.2 Hours
11 Hours
11 Hours
Weight
15.2 Kg (7.7 Kg each)
14.30 Kg
20 Kg (10 Kg Each)
28.6 Kg (14.3 Kg Each)
28 Kg
Dimensions mm L/W/H
239 (478)
132
205
330
171
215
258 (516)
166
215
330 (660)
173
212
522
238
218
APPLICATIONS