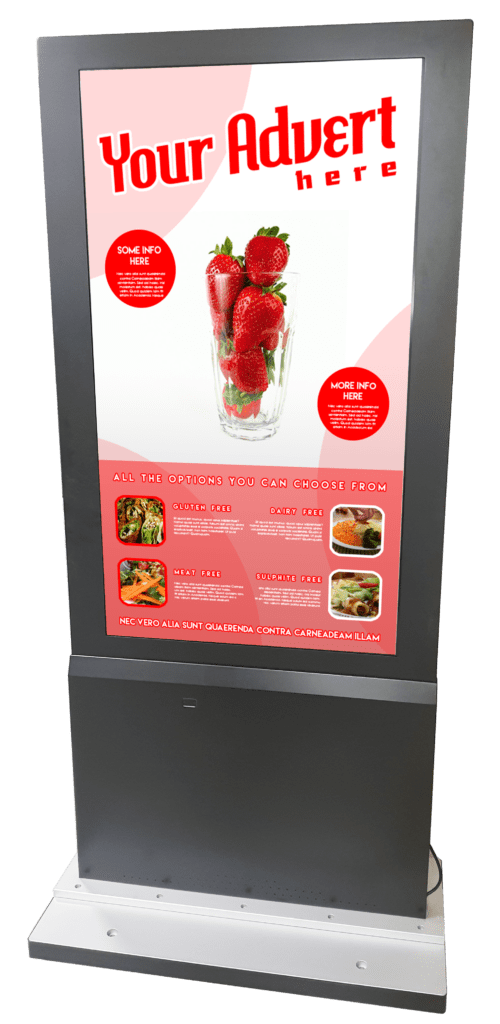 SLIM, INDOOR, DOUBLE SIDED LCD DISPLAY
Compact, Sleek, Light weight, LCD Digital Signage Displays
Learn more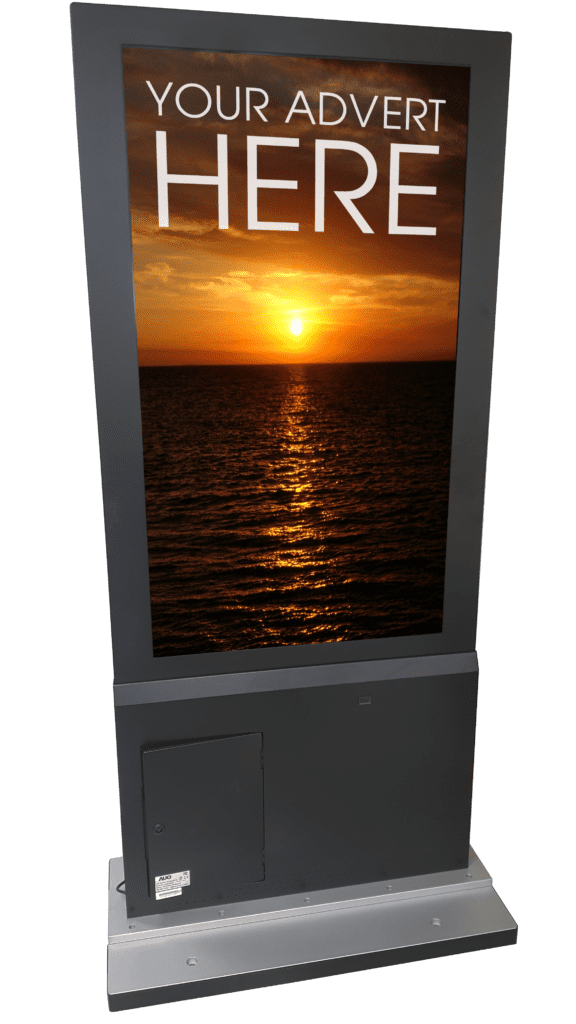 MetroSpec LCD55 FHD is a slim, double sided LCD Advertising Display for indoor use.
PANEL INFORMATION
Superior Picture Quality & Visibility, with a Brightness up to 700 Nits making all images, videos and advertisements vivid and eye catching to viewers
DOUBLE SIDED
Dual Panels, back to back are  55" FHD panels
SLEEK, SLIM DESIGN
Our dual sided display is one of the slimmest on the market with a less than 25mm thickness!  It has a compact, sleek design making it the perfect point of sale tool for retail and advertising display applications.
PRODUCT DETAILS
Features that set the MetroSpec LCD55FHD apart from other displays in the market is its ease of use and set up, its light weight and includes the ability to mount the product in various configurations such as
Ceiling Mount
Side Mount
Stand Mount
Premium Stand Mount on Wheels
Whilst capturing your audience's attention from both directions with valuable information and stunning videos sent to its optional inbuilt PC.
MetroSpec LCD55FHD Indoor Dual Display Benefits
MOUNTING CONFIGURATIONS
Allowing different mounting configurations – from the ceiling, on the wall, on a stand or a stand with wheels.
CONVENIENCE
MetroSpec products have proven reliable and require little maintenance.
FLEXIBLE
Integrated Hardware &  Optional Scheduling Software enables customers to immediately produce digital content to engage the audience.
TECHNICAL SPECIFICATIONS
Sleek Design & The Slimmest Dual-Sided Display with a less than 25mm thickness provides the ideal indoor advertising option.  Technical Specifications of the Display are listed below.
Panel Features
Product Information
| MetroSpec LCD55FHD | Dual Sided Display |
| --- | --- |
| LCD Panel Size | 55" x 2 Back to Back with a combined thickness of < 25mm |
| Resolution | 1920 x 1080 Pixels |
| Brightness | 700nits/700nits |
| Contrast Ratio | 4000:1 (typ.) |
| Display Area | 1209.6 (V) x 680.4 (H) mm |
| Bezel Opening | 1212.6 (V) x 683.4 (H) mm |
| Power Consumption | 230 W |
| Surface Treatment | Haze 11% 3H |
Dual-Sided Display
Dual-Signage in Stand Mount
Dual-Signage in Premium Stand Mount with Wheels
Dimensions
1515.9 x 856.8 x 23.4 (D) mm; Bezel Width 64/87/87 mm (Bottom 239mm)
1945.70 x 861.90 (U) /62.4 (D) mm. Stand: 162.4 x 950 mm (Top View) Bezel Width: 64/87/87 mm
2029.7x 861.90x 23.4 (U) /62.4 (D) mm. Stand: 452.4x 952.7 mm (Top View) Bezel Width: 64/87/87 mm
Weight
45.5 kg
69 kg
94.5 kg
Material
Metal
Metal
Metal
Surface Treatment
Painted Black
Painted Black
Painted Black
I/O
HDMI x 2
HDMI x 2
HDMI x 2
Speaker Inside
N/A
7W x 2
7W x 2
Input
AC-100V-240V/50-60Hz
AC-100V-240V/50-60Hz
AC-100V-240V/50-60Hz
Power Box Output
DC 24V, 10A x I; DC 12 V, 1.5A x 2
N/A
N/A
Power Box Dimension
600 x 370 x 42 mm
N/A
N/A
Optional Mounting Brackets
Roof Mounts
Two Poles Ceiling to Floor
One Pole
N/A
N/A