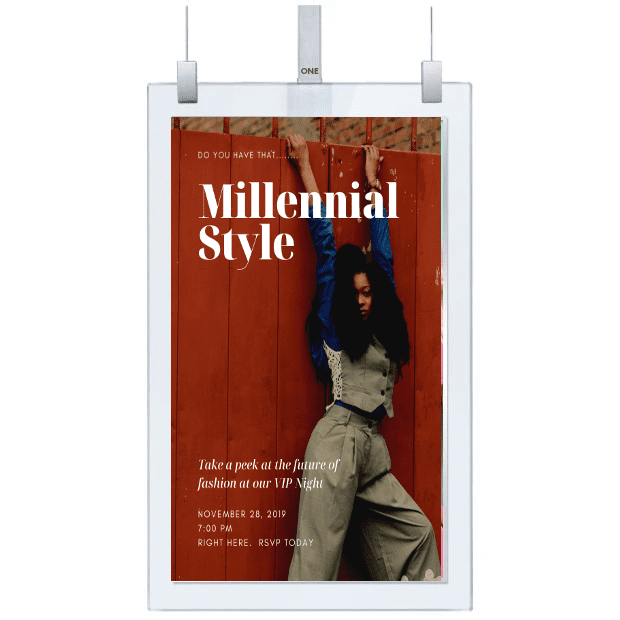 RETAIL DIGITAL SIGNAGE DOUBLE SIDED, HANGING LCD DISPLAYS
Our Ultra-Thin Double Sided Hanging LCD Displays are modern and sleek.  This display makes the perfect digital advertising display screen for retail business and more.
Learn more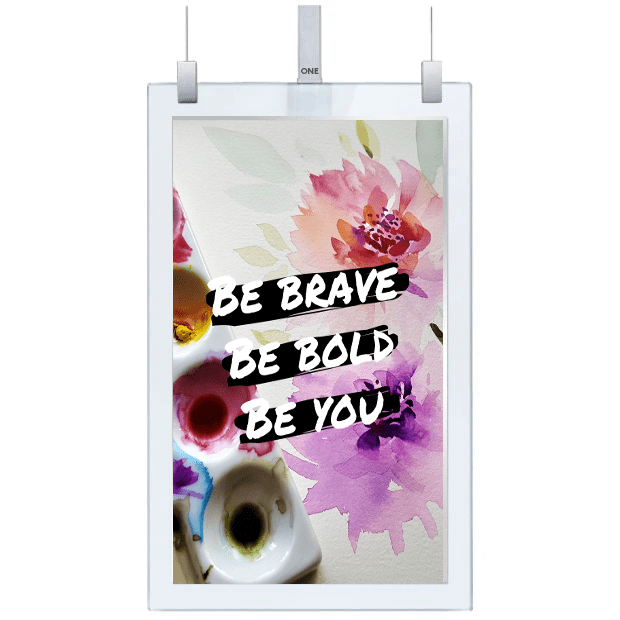 RETAIL DIGITAL SIGNAGE DOUBLE SIDED, HANGING DISPLAY BENEFITS
Seriously, this double sided hanging display is amazing.  Check out the benefits below.
INFORMATION ABOUT OUR LCD DIGITAL DISPLAY SCREEN
Superior picture quality and high resolution make this LCD display one of the most amazing indoor digital displays on the market.  In fact, its brightness of 450 nits makes all images, videos and advertisements eye catching for viewers.
ROTATING DOUBLE SIDED DIGITAL DISPLAY SCREEN
Our LCD Retail Display Screen has dual panels, back to back.  They measure 55" and are HD panels which slowly rotate to deliver sales messages to your customers.
DIGITAL DISPLAY DETAILS
Features that set this display apart from others on the market are its ease of use and easy set up.  It is mounted from the ceiling.  Additionally, this dual-sided digital advertising display screen will capture audience's attention from all directions.  To top things off, its inbuilt PC makes displaying valuable information and stunning videos a breeze.
MetroSpec Indoor Screen Benefits
Attract attention or deliver a message by displaying it in your store.
RELIABILITY
The LCD55DSWD-GH has a long product life-cycle.  This unit has also been put through a 500hr reliability test to make sure it's durable enough for all indoor applications.  To top things off MetroSpec products are reliable and require little maintenance.  In fact, we have a return rate of 0.05% for all our products.  So you can rest easy when purchasing your product through us.
DIGITAL SIGNAGE WITH A SLEEK, SLIM AND Modern DESIGN
Our dual sided LCD retail digital displays are one of the slimmest on the market.  Together, they measure 21mm in thickness! To put that into perspective, most dual sided LCD displays are 60mm in thickness.  That's over nearly triple the size!  Its compact, sleek design also makes it the perfect point of sale tool for in store digital signage display applications.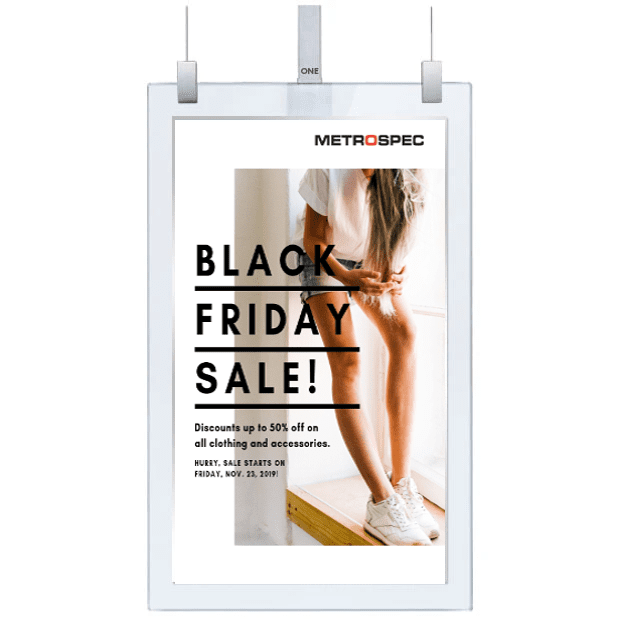 TECHNICAL SPECIFICATIONS
The sleek design and slim dual sided display (less than 22mm) makes for the ideal digital advertising display screen.  More technical specifications are listed below.  Please contact us directly for more information.
Retail Digital Signage Dual Sided
Enclosed Monitor
| MetroSpec LCD55DSWD-GH | Dual Sided Display |
| --- | --- |
| LCD Panel Size | 55" x 2 Back to Back with a combined thickness of < 22mm |
| Resolution | 1920 x 1080 Pixels |
| Brightness | 450nits/450nits |
| Contrast Ratio | 4000:1 (typ.) |
| Display Area | 1209.6 (V) x 680.4 (H) mm |
| Panel Brand | LG (TFT-LCD + LED + Backlights) |
| Colour | 1.07 Billion |
| Aspect Ratio | 16:09 |
| Response Time | 6.5 mS |
| Viewing Angle | 178/178 degrees |
| CPU | Rockchip Cortex A17 1.8GHz |
| Mainboard | RK3288 |
| GPU | Rockchip Mail T764 MP |
| System RAM | DDR3 2GB |
| System ROM | EMMC 8GB |
| Storage | TF/USB |
| OS | Android 5.1 |
| Display | Rotate, Two screens the same or Two screens with different images on each |
| WiFi | Yes |
Dual-Sided Display
Dimensions
Product Size: 878 mm (W) x 1430 mm (H) x 21 mm (D)
Assembly Size:
878 mm (W) x 1830 mm (H) x 370 mm (D)
Weight
Net Weight: 41 kg
Gross Weight: 58 kg
Material
Cold Rolled Steel
Surface Treatment
Powder Coated and Toughened Glass Surface
I/O
Input: 2 x USB, 1 x HDMI, TFX1, LANX1, SATAX1
Output: Signal Display x 2, IR Remote Control, Audio 10W x 2 Speakers
Speaker Inside
Built in HD Audio System
Audio Format
MP3
Video Format
WMV, AVI, FLV, RM, RMVB, MPEG, TS, MP4
Photo Format
JPG, BMP, PNG, GIF
Power Supply
AC-100V-240V/50-60Hz
Power Consumption
185 W
Enquire about our Retail Digital Signage Today!